Page 2 - SecurShade-Brochure
P. 2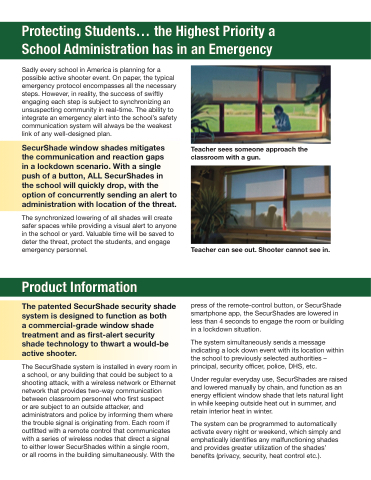 Protecting Students... the Highest Priority a School Administration has in an Emergency
 Sadly every school in America is planning for a possible active shooter event. On paper, the typical emergency protocol encompasses all the necessary steps. However, in reality, the success of swiftly engaging each step is subject to synchronizing an unsuspecting community in real-time. The ability to integrate an emergency alert into the school's safety communication system will always be the weakest link of any well-designed plan.
 SecurShade window shades mitigates the communication and reaction gaps
in a lockdown scenario. With a single push of a button, ALL SecurShades in the school will quickly drop, with the option of concurrently sending an alert to administration with location of the threat.
  The synchronized lowering of all shades will create safer spaces while providing a visual alert to anyone in the school or yard. Valuable time will be saved to deter the threat, protect the students, and engage emergency personnel.
Teacher sees someone approach the classroom with a gun.
Teacher can see out. Shooter cannot see in.
Product Information
 The patented SecurShade security shade system is designed to function as both
a commercial-grade window shade treatment and as first-alert security shade technology to thwart a would-be active shooter.
 The SecurShade system is installed in every room in a school, or any building that could be subject to a shooting attack, with a wireless network or Ethernet network that provides two-way communication between classroom personnel who first suspect
or are subject to an outside attacker, and administrators and police by informing them where the trouble signal is originating from. Each room if outfitted with a remote control that communicates with a series of wireless nodes that direct a signal to either lower SecurShades within a single room, or all rooms in the building simultaneously. With the
press of the remote-control button, or SecurShade smartphone app, the SecurShades are lowered in less than 4 seconds to engage the room or building in a lockdown situation.
The system simultaneously sends a message indicating a lock down event with its location within the school to previously selected authorities – principal, security officer, police, DHS, etc.
Under regular everyday use, SecurShades are raised and lowered manually by chain, and function as an energy efficient window shade that lets natural light in while keeping outside heat out in summer, and retain interior heat in winter.
The system can be programmed to automatically activate every night or weekend, which simply and emphatically identifies any malfunctioning shades and provides greater utilization of the shades' benefits (privacy, security, heat control etc.).