Page 8 - somfy-powers-smart-living-brochure
P. 8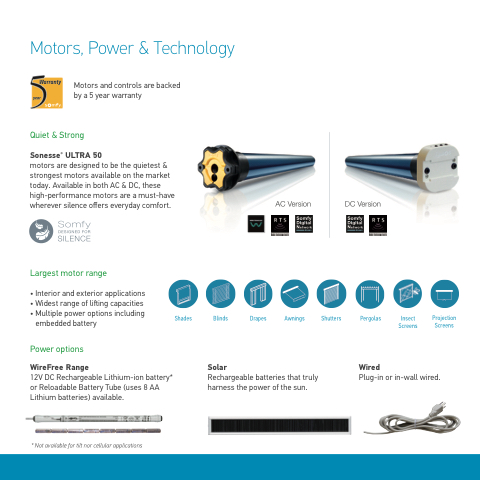 Motors, Power & Technology
Motors and controls are backed by a 5 year warranty
Quiet & Strong
Sonesse® ULTRA 50
motors are designed to be the quietest & strongest motors available on the market today. Available in both AC & DC, these high-performance motors are a must-have wherever silence offers everyday comfort.
AC Version
DC Version
Largest motor range
• Interior and exterior applications • Widest range of lifting capacities • Multiple power options including
embedded battery
Power options
WireFree Range
12V DC Rechargeable Lithium-ion battery* or Reloadable Battery Tube (uses 8 AA Lithium batteries) available.
Shades
Blinds
Solar
Drapes
Awnings
Shutters
Pergolas
Wired
Insect Screens
Projection Screens
* Not available for tilt nor cellular applications
Rechargeable batteries that truly harness the power of the sun.
Plug-in or in-wall wired.